Welcome to Las Terrenas, a beautiful beach town located on the north coast of the Samana Peninsula.
Over the last 5 years, this peaceful fisherman village became the star destination of the Dominican Republic. A new destination for vacation, a place to live, relax or invest in. There is a lifestyle for everyone in Las Terrenas.
Find below all the practical information to guide you during your visit.
How to get to Las Terrenas?
By Plane:
From EL Catey Airport:
Also known as the Juan Bosch International Airport, El Catey is the nearest airport to travel to Samana, Dominican Republic. It is located 25 minutes driving from the center of Las Terrenas. Shuffles and taxis are available on site for transfer. Flights companies that operate in El Catey International Airport:
American Eagle (Charlotte) | Air Canada Rouge (Montreal) | Air Transat (Montreal) | Westjet (Toronto) | Wamos Air (Madrid) | Orbest (Portugal) | Eurowings (Germany) | Nordwind Airline (Moscow)
From Santo Domingo, Las Americas Airport:
Las Americas in Santo Domingo is the largest international airport of the Dominican Republic. All major airline companies fly from the US, Latin America and Europe.
To get to Las Terrenas, you can order a Taxi or Uber (US$ 6) to the bus station located 10 minutes from the airport. Then take the direct bus to the beach town. The bus fee is 400 Dominican Pesos (US$ 8) and takes about 2 hours.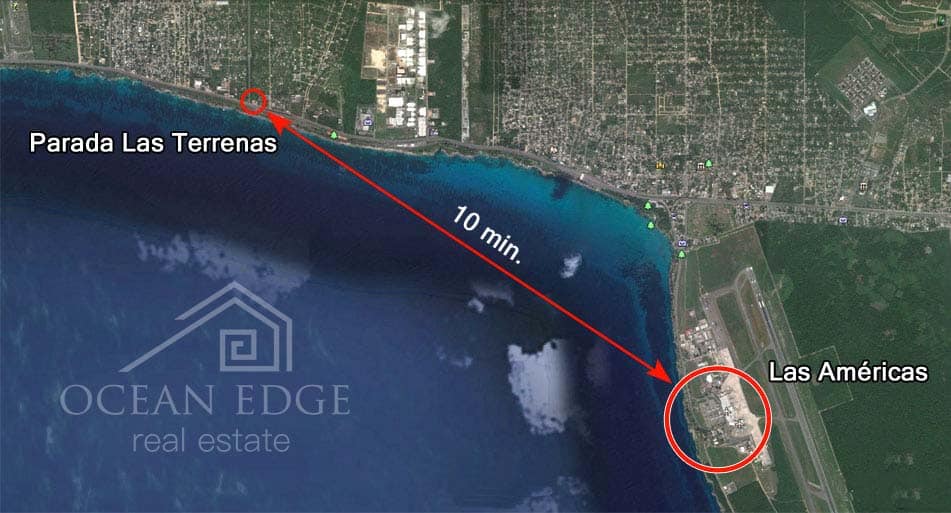 From Punta Cana Airport:
The most famous destination in the Dominican Republic, Punta Cana usually enjoys the best deals to fly from Europe for an affordable price. If you need to go to Las Terrenas there are 2 options:
By Santo Domingo (duration: 5 hours)
From Punta Cana take Express Bavaro (US$ 8) to Santo Domingo then the bus (Asotrapusa Company) to Las Terrenas (US$ 8)
By Miches (duration trip 6 – 7 hours)
From the Airport you can get to Miches & Sabana de la mar by bus or taxi. Take the ferry From Sabana de la mar to Samana (55min)
Departures:  Sabana de la mar >>>>> Samana
8am – 11am – 3pm
Departures: Samana >>>>> Sabana de la mar
7am – 9am – 11am – 3pm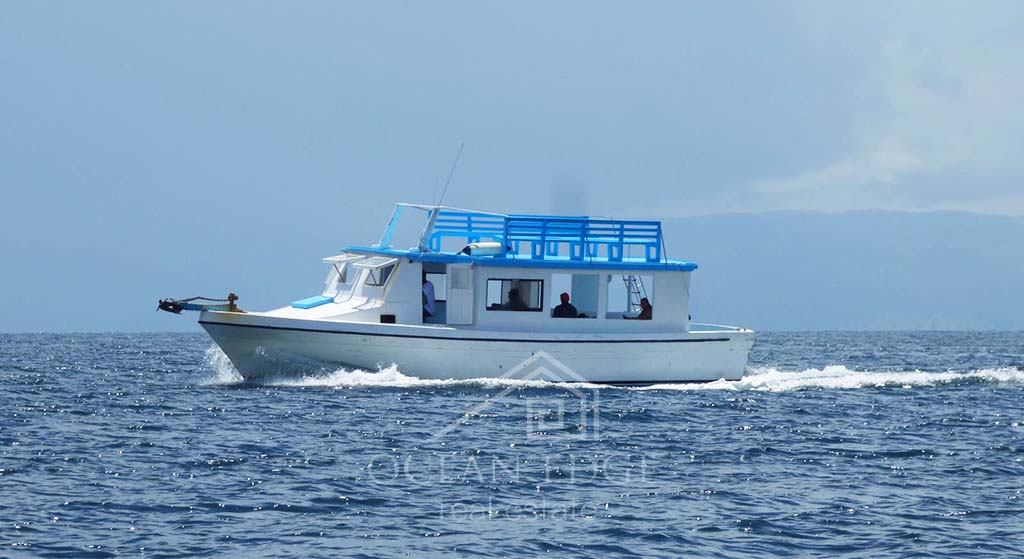 By Bus:
The Asotrapusa company is the official interregional transport in Las Terrenas. The buses leave from the Super Parada Las Terrenas. This stop is located at the intersection between Boulevard del Atlántico and the main Avenue Juan Pablo Duarte (check map below). These are direct buses to different cities of the country:  Santo Domingo (Capital), Puerto Plata, Santiago, Sanchez…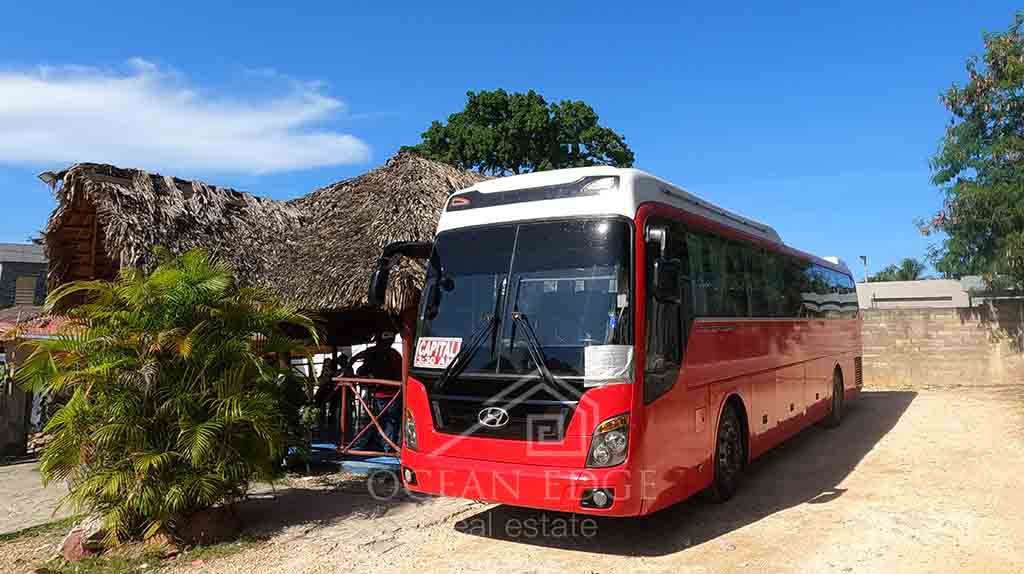 SANTO DOMINGO (Duration of the trip 2 hours)
Las Terrenas – Santo Domingo (Capital): (500 RD $)
Departure time: 05:00  am,  07:00 am, 09.05 am,  11.00 am,  02.10 pm  and the last one at 03.30 pm.
Santo Domingo (Capital) – Las Terrenas: (500 RD $)
Departure time: 08.30 am,  09.30 am,  11.00 am,  01.40 pm,  03.00 pm and the last one at 06.00 pm.
PUERTO PLATA (Duration of the trip 4:00 hours)
Las Terrenas – Puerto Plata (Sosua / Cabarete): (400 RD $)
Departure time 06.30 am
Puerto Plata (Sosua / Cabarete) – Las Terrenas: (400 RD $)
Departure time 01.00 pm
SANTIAGO (Duration of the trip 3:00 hours)
Las Terrenas – Santiago: (350 RD $)
Departure time 06.15 am | 08.15 am | 12.45 am
Santiago – Las Terrenas: (350 RD $)
Departure time 06.45 am | 11.30am | 03.00 pm
By Taxi:
Looking for a safe and comfortable road trip to Las Terrenas after landing in the Dominican Republic, the local Company Asochotratutena is here for you.
El Catey Aiport – Las Terrenas = 70 US$
Santo Domingo – Las Terrenas = 200 US$
Punta Cana – Las Terrenas = 400 US$
(* This average price may change in function of the company, season, number of people, day or night time)
By Car:
Renting a car or motorbike is definitely a good option to travel around the Dominican Republic. An economic rental car will cost approximately 40-50 US$/day. Many rental companies are available online or at the airport. You will be required to provide your passport and driving license. Shared transport is a good option as well, more economic and less contaminating for Mother Nature.
Map and Information of Las Terrenas 
Las Terrenas is definitely a unique beach town in the Dominican Republic. The village appeals for tourism thanks to its quality lifestyles and infrastructures. Local residents and tourists alike benefit from good hospitals, blissful beaches, sport facilities, police, supermarkets, hotels and plenty of delicious international & local restaurants.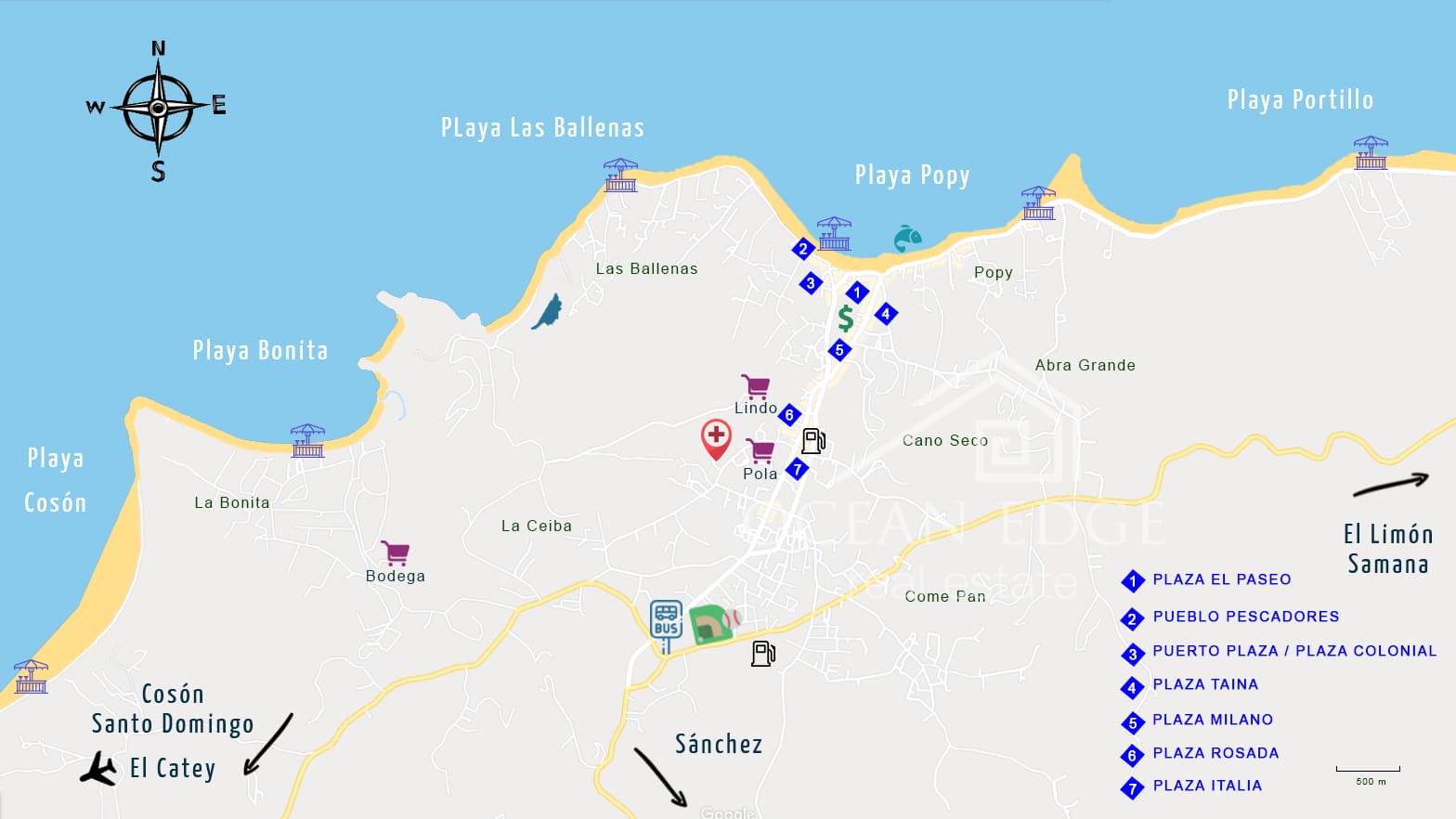 One of the highlights of this beach town is the fact that it has the most beautiful beaches in the Dominican Republic. Check out our article and discover the "Top 10 Beaches in Las Terrenas, Samana, Dominican Republic"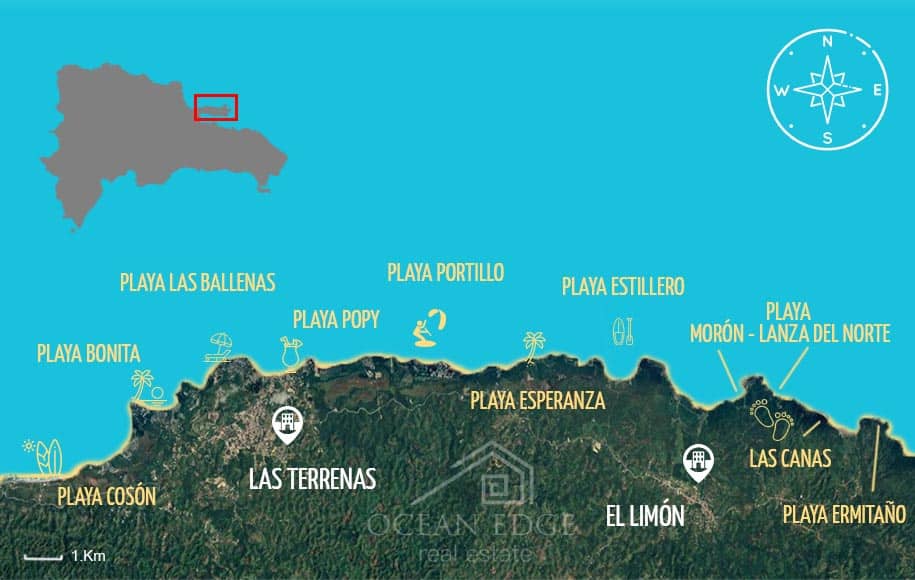 Where to stay?
If you'd rather relax at the beach without caring about anything else, Las Terrenas offers several all-inclusive resorts. You can have a unique beachfront experience with unlimited drinks and food, live music, activities and an exclusive beach.
The 3 main resorts in Las Terrenas are:
Viva Wyndham by Coson beach (Only Adults)
Sublime Samana by Coson beach (Apartments & Villas)
Bahia Principe Grand El Portillo (Next to the Kite Surf beach in Playa Portillo)
The unique charm of Las Terrenas is a result of strict tourism and urban laws preventing the construction of large real estate developments not respecting the environment. For example, it is forbidden to build in a 60 meters (200 feet) line from the beach and the density of construction is also limited so that the village will ever be green and surrounded by nature.
You can find comfortable hotels and Bed & Breakfast's close to the the beach for an affordable price (starting from 35 US$/night)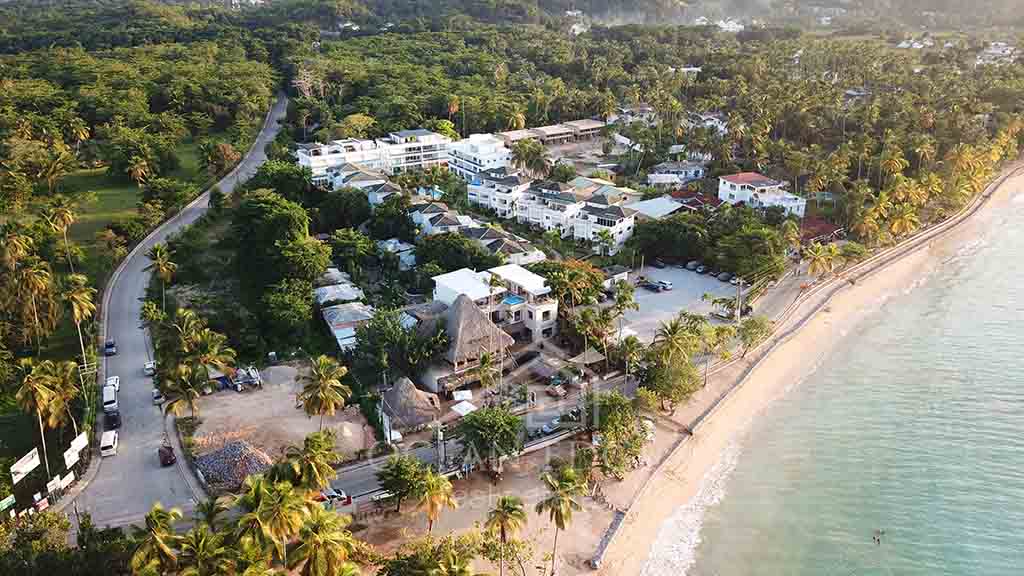 As tourism is growing rapidly and many foreigners have invested in real estate, in vacation properties mainly, the AirBnB offer has been growing significantly. Travelers looking for an unforgettable experience can find amazing ocean view villas or beachfront condos for rent, ideal for family groups or couples.
The rental rates depend on the length of your stay, the location and the season. You can check with our Rental Management Service for more info.
How to move around?
"GUAGUA"
Inside the Peninsula of Samana it is really easy to move around with the "Guagua", the local public transport in the Dominican Republic.
The bus station in Las Terrenas is located on the main street, Calle Duarte (in front of the commercial plaza). The "Guaguas" will bring you to the following destinations:
El Limón (Horseback riding and Waterfalls)
Samaná (The island of Cayo Levantado, whales watching, Los Haitises natural reserve)
Las Galeras (A mesmerizing beach village located at the tip of the Peninsula)
It is recommended to arrive at the station 10 minutes earlier in order to secure a seat. Are you ready to travel across the amazing landscapes of Samana with local workers, farmers transporting vegetables and children going to the baseball training?
Las Terrenas – El Limón (duration time: 30min)
Departures: 6:30 am, every 15 minutes a bus leaves and the last one at 6:00 pm
Price = 50 Dominican Pesos / US$ 0.80 
Las Terrenas – Samaná (1 hour)
Departures: 7:15 am, 8:00 am, 9:30 am, 11:00 am, 1:30 pm, 2:15 pm, 3:15 pm and the last one leaves at 5:45 pm
Price = 100 Pesos / US$ 1.60
Las Terrenas – Las Galeras (2h30)
Departures: 9:00 am and 2:45 pm
Price = 200 Pesos / US$ 3.20
"Rent a scooter or a motorbike"
The peninsula of Samana enjoys a lush tropical landscape and hundreds of kilometers of beaches and turquoise waters. "La Pasola", the scooter gives you the freedom to move around and discover the different beaches, waterfalls and country roads. Enjoy a day trip along the coast with the ocean breeze, have a typical Dominican lunch in small village, get to know the friendly local villagers and drive to infinite adventures. It is recommended to wear a helmet for your own safety and not to be bothered by the police. Make sure you have a copy of your passport, water and sun screen.
"MotoConcho"
MotoConchos (motorbike taxis) are the cheapest and most convenient way to do short distances in Las Terrenas. The price is US$ 2 to US $4 for most trips depending on distance and day or night time.
MotoConchos are always wearing a yellow jacket to show that they are members of the Local Drivers Association and therefore must apply to certain rules to ensure a safe ride.
"Bicycle"
The greener option to move around Las Terrenas.  The bicycle is a nice transport mean to ride along the beaches and to the center of the village. It is a daily activity for some residents. For the more sporty, there are bicycle teams in Las Terrenas leaving early in the morning towards El Limon or Sanchez (mountains). Several places offer road or mountain bikes for rent in Las Terrenas.
Where to eat?
Las Terrenas is a cosmopolitan village, with many expats, locals and tourists from all over the world. That diversity of cultures is translated in the local vibes and definitely in the food. You can find a variety of international restaurants from French gastronomy and typical Mediterranean food to juicy American burgers and vegetarian restaurants. Furthermore Las Terrenas is a fisherman village. Most restaurants will propose delicious seafood freshly caught in the morning such as Marlin filet, grilled shrimps and delicious lobster.
Let's start with the most common restaurant in the Dominican Republic:
"Comedor"
The comedor is a local restaurant serving Dominican specialties, usually open for breakfast and lunch only. You can find comedores everywhere in town. Most of the time the comedor is a family business where "La Mama" is taking care of cooking with love. The comedor is the best place to eat for a very affordable price and discover the Dominican specialties:
Mangú (Smashed plantain with cheese and oignons)
Arroz y Habichuelas (Rice and black beans sauce)
Tostones (Fried plantains)
Pollo Guisado (Braised Chicken in caramelized sauce
Sancocho (Soup with meat and vegetables)
Mofongo (Ball of plaintain stuffed with meat or fish)
The service is fast and the atmosphere is familiar, surrounded by locals on a lunch break. Order a chill Presidente beer and enjoy your meal with the sound of bachata in the background.
Price = 200$ – 400$ Dominican Pesos / US$ 3.5 – US$ 7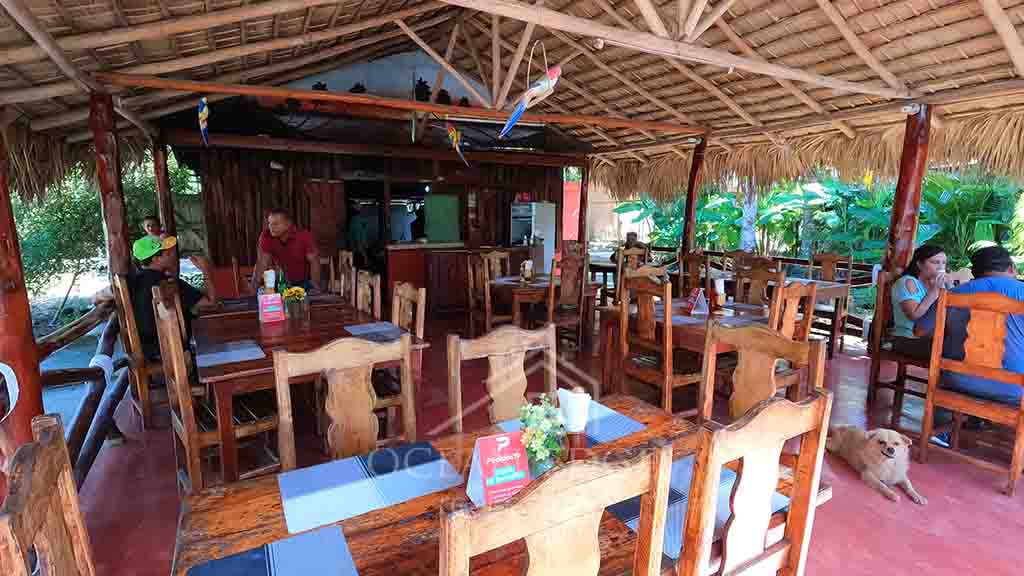 "Empanadas"
Usually found near a "Colmado" (grocery store), empanadas are a good option for a quick lunch on the move. They are stuffed with eggs, cheese, veggies, ham or chicken.
Price = 25 – 30 Pesos / 0.50 cents
There are 2 places offering "Gourmet" empanadas in Las Terrenas:
– Empanada y mas (Chilean restaurant) in Las Ballenas Beach
– La casa de las empanadas, food truck usually located on the main street, in front of Banco Popular
The fishermen beach shacks
Located at the beginning of Popy beach, next to the fish market, you will find colorful beach shacks on the beach, serving delicious seafood freshly caught in the morning. They offer typical dishes like fried fish, ceviche, shrimps… feet in the sand!
Price = 400 – 600 Pesos / US$ 7 – US$ 10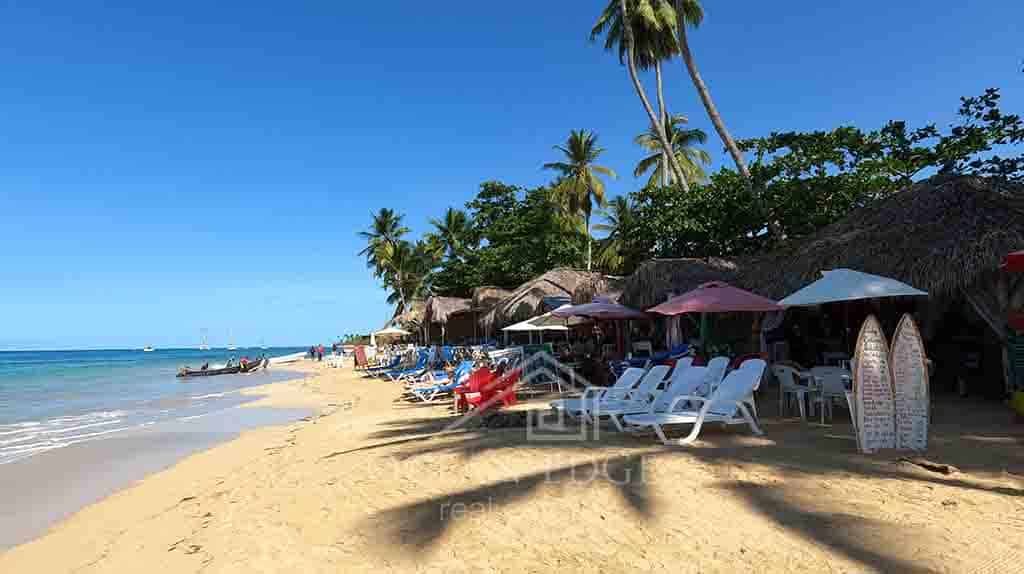 International Restaurants
Since the French and Italians arrived in Las Terrenas 25 years ago they naturally brought their rich food culture with them. There are several importers selling good wine, cheese and other quality products from France and Italy. These products are present in the best restaurants in Las Terrenas. From Pizza to Pasta, French croissants to Bistrot restaurants, the local communities have plenty of options to go out and dine, and feel a little at home.
Las Terrenas became an international tourism destination, more and more creative places have set up their business over the years. You can now find a true American Burger at "Gringo Burger", several vegan options at "Tropik Bowl" and "SolyFresh", delicious Japanese Sushi at "Sergio B", Venezuelan arepas at "The point" or a organic chicken with Belgium fries at "La Rotisserie".
Price = 500 – 1500 Pesos
What about the money?
Well we can easily start with NEVER change your Dominican Pesos at the airport. The airports usually have much higher rates and commissions than the exchange office in town.
You can pay everywhere with US Dollars but you might want to exchange your dollars or euros to Dominican Pesos in order to start paying the right price. As they do not accept coins you will always lose on the change and eventually pay a higher price than with Dominican Pesos. Note that many businesses like restaurants and small hotels do not accept credit cards.
You can find many exchange offices in town (do not get confused with the little stores named "Banca". These are lottery desks). You can also directly exchange your money at the bank with your passport, at the rate of the day.
The exchange rate this year 2021 was on average:
1 US Dollar = 57 Pesos
1 EURO = 64 Pesos
* Most international businesses accept credit cards
* Cryptocurrency is now present in Las Terrenas too! You can find an exchange office and convert your bitcoin in cash or the other way around. Have a look at our article on "how to buy property with bitcoin"
What about the city facilities?
From a fishermen village to a well-developped beach town, Las Terrenas has changed a little over the last 20 years, without losing its charm and beautiful landscapes.
With more tourism, more expats coming to settle down and in brief more people in Las Terrenas, the urbanization has been growing lately. The municipality has been working hard to adapt the village and guarantee to its people efficient infrastructures and public services.
A brand new public hospital opened his doors in 2021. All areas in Las Terrenas have access to water with INAPA and electricity with "Luz Y fuerza". Fuel and gas stations are available from 7am to 10pm. Fiber optic is available in many neighborhoods and being installed in more zones every day. A police station is present in the tourism center. There is also a specific branch dedicated to ensure safety for tourists: POLITUR.
Public schools are available and free for locals, you may come accross groups of kids in school uniforms during the week. For the expat kids you will find plenty of international schools with new education methods that will guarantee a good education for your kids, learn several languages and make international friends.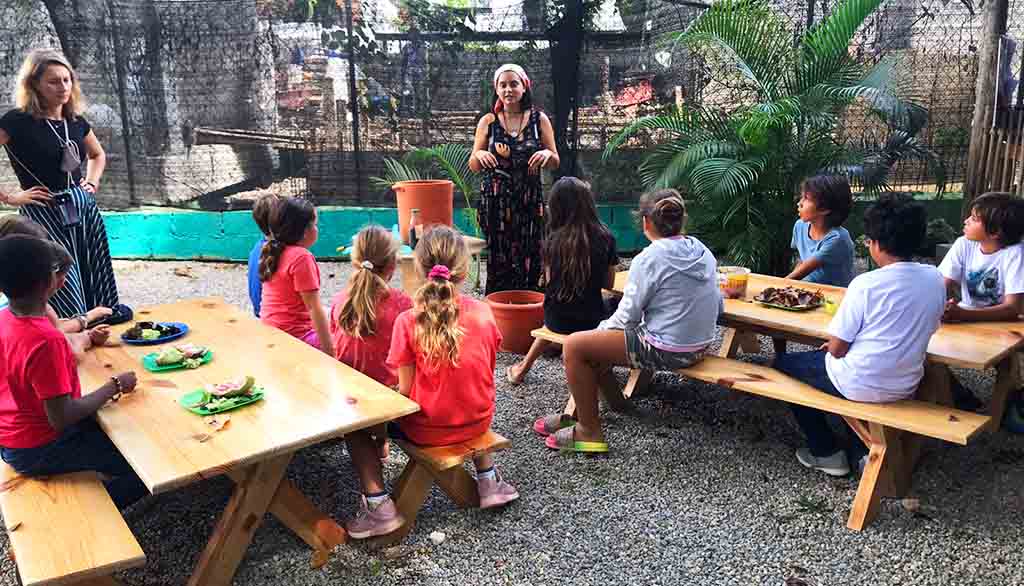 One of the main focus of the Mayor and the tourism office of Las Terrenes is the environment. This last year many garbage bins and signs have been installed to encourage visitors and locals to respect their beautiful village. Every morning at dawn, a large team is deployed on the beach to collect the eventual garbage left by visitors the day before.
The main issue remains the consumption of plastic. This will be the next challenge for the future of Las Terrenas and Ocean Edge is committed to help make Las Terrenas a green city, respectful of its environment.
What activities to do in Las Terrenas?
For the ones who like nature and outdoor sports, Las Terrenas is a natural playground. You can have a run on the beach in the morning, a good swim or dive in the Ocean, kite surfing in Portillo Beach, surfing in Playa Bonita or even biking in the mountains… The town features a baseball field located next to the main bus station. You can go watch a game with the local team playing on Saturdays. Next to the Baseball field is a public stadium where locals play basketball, volleyball and soccer during the week. This is open to public so don't be shy to join and play the ball with them. In addition, there are many fitness centers to keep working on your Apollo body. We would like to see more structures like these in the future, they are important to the kids and the well-being of locals.
Check out our article about the "10 activities to do in Las Terrenas"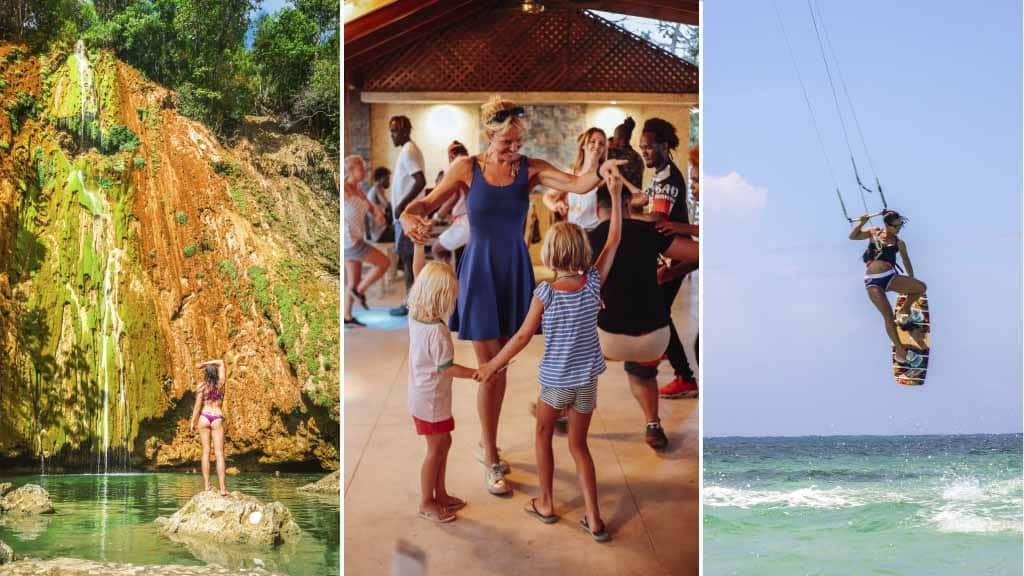 Can you live here?
The best way to answer this question is to take some holidays and visit us whenever you can. At Ocean Edge Real Estate we were happy to help clients to find their new home in the Caribbeans. Las Terrenas have got everything to please everybody. Retired persons who want to enjoy their days under the coconut trees, young couples working remotely, new parents leaving the stress of the city and looking for a different life for their children, investors happy to come on holiday and earn some money the rest of the year…
Check out our "Properties for sale" and start your new journey in the Dominican Republic.
Just be aware that in the Dominican Republic the perception of time is very different. The services are not as efficient or quick as you are used to at home. Sometimes you have to deal with some delay, louder music, slower internet or occasional power cuts. The balance you get for living in a place where stress doesn't exit, where people are polite and smiling, where relaxing, laughing and dancing is part of the daily life.